How to Create Space With Clever Bedroom Design
Most homes have one bedroom that is considerably smaller than all of the others. Even if your home is spacious everywhere else and you have five or more bedrooms, it is highly likely that you will have at least one bedroom which is not large enough to accommodate a double bed.
These smaller bedrooms – and even more modest box rooms – present a problem from a design point of view. Fortunately, help is at hand. Bedrooms which Essex inhabitants should be proud of can be put together with clever design touches that save space and maximise the potential of even the most meagre of rooms.
Turn to Matter Designs to help you in the design and delivery of even very small bedrooms in Essex. We have a great track record of success all over the county because we use some of the following ideas in our design work.
Read on to find out how you can make more space when there isn't much room to play with.
Remodelling Work
The first thing to think about when you are redesigning a bedroom is whether or not you are truly limited to the space that it currently occupies. In some cases, remodelling the dimensions of a smaller bedroom will mean taking away space from adjacent rooms which may not be desirable. That said, if you have spare space in an adjoining room that is not being put to good use, moving the wall can be worth it. Although this is easier to do if it is a stud wall, knocking down a supporting one and putting in a joist is still possible in nearly all cases.
Making extra square footage is also possible by removing walkways and corridors or stealing space from them. However, if remodelling is not possible, then you will have to make the illusion of more space which is where creative design can really make a difference.
Offer a Clear Line of Sight
One of the biggest problems with a smaller room is when you have to shuffle around the door just to get into it. Although you may be tempted to put a bed or a wardrobe in the space just beyond the door, it is best to try and avoid this. Ideally, you will be able to arrange your room such that you get a clear line of sight from the doorway to the window. This may mean rethinking the entire layout, of course.
However, needing to turn through ninety degrees as soon as you enter a room not only means that it immediately feels pokier, but it highlights the limitations of the room. Place bulky items of furniture away from the door or think about repositioning the doorway so you get a clear line of sight as you enter.
Make Use of Vertical Space
When you don't have a large amount of square footage to present your design ideas, the best thing you can do is to leave as much floor space available as possible. Narrow walkways around the bed with chests of drawers and bedroom trunks placed nearby will make for an undesirable and claustrophobic feeling.
However, not having any furniture at all is hardly practical – even in a guest room, you need space for people to place a few items, after all. Therefore, floor-to-ceiling storage units are the order of the day. Wardrobes with integrated drawers above eye-level are perfect for this. If you have nooks and crannies – such as eaves or chimney breasts – to cope with, then bespoke fitted furniture is likely to be the best way of maximising the vertical space rather than opting for standard units.
Focus on Which Bed You Will Choose
Beds make all the difference in bedrooms. If you have a child who will be sleeping in the room, then a bunk bed which has a desk area beneath it with some integrated storage is a very good idea. Smaller kids like the adventure of climbing up to go to bed anyway.
Another good tip is to opt for a single bed with an extra trundle mattress beneath it in guest rooms. This means you keep the floor space available and only use the bed in double-width mode when you have two guests staying over.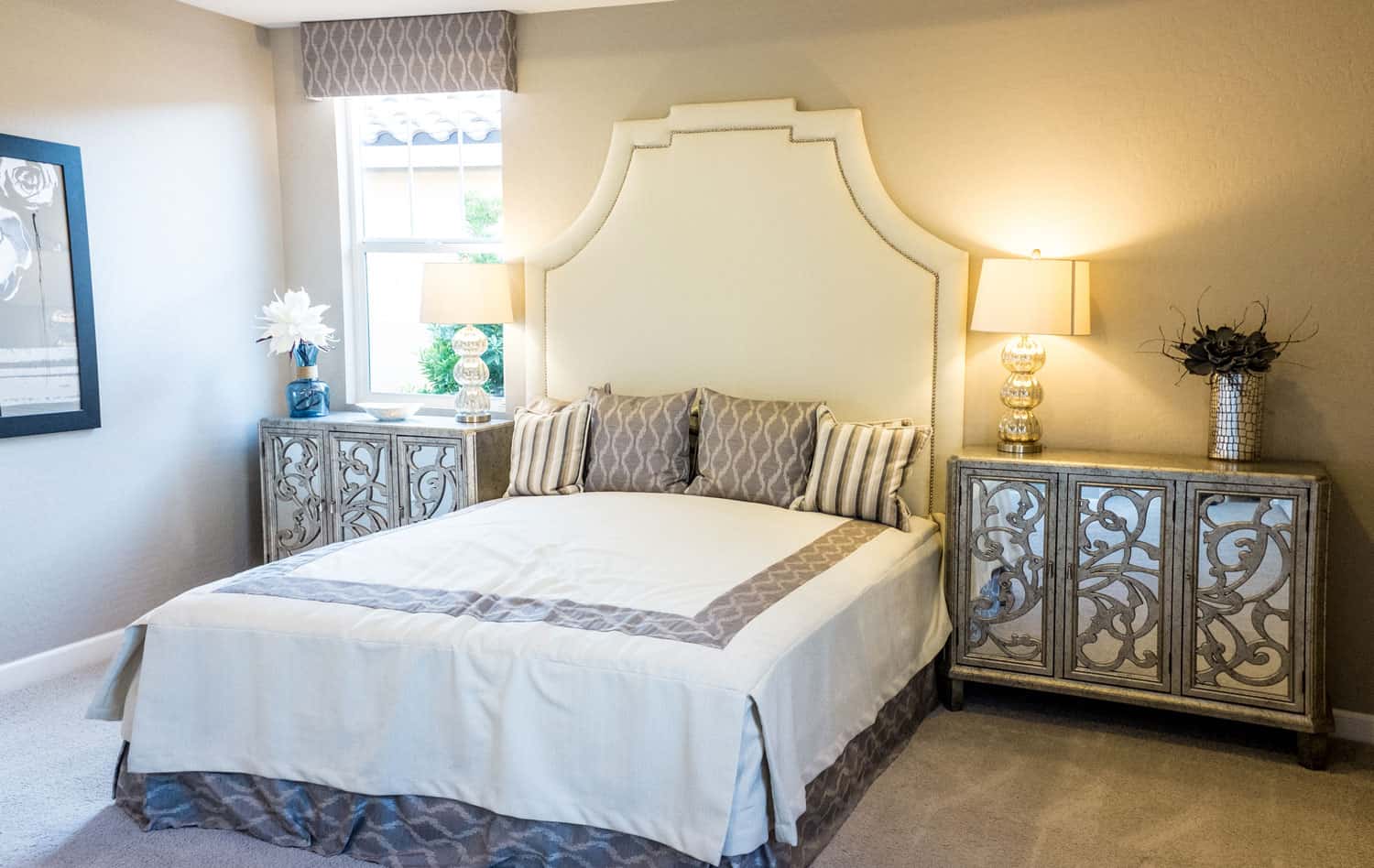 Match Walls and Window Treatments
Many smaller bedrooms in Essex suffer because they are decorated in the same style as larger rooms. Although you can have a dynamic design in a smaller room, it is best to keep contrast to a minimum. As such, curtains, blinds and other window treatments, such as shutters, ought to be coordinated with your walls.
Keep the design in harmony throughout. If so, then you don't necessarily need to stick to the lightest colour palettes and can be a little more adventurous without making the room seem cramped.
Contact Matter Designs Today
 For more information on our bathroom installation services in and around Essex, please don't hesitate to contact us at Matter Designs via [email protected]. Our team will be in touch with you as soon as possible to discuss your bathroom designs and how we can make your vision come to life with ease, efficiency and competitive pricing. We'll be happy to show you a plethora of previous work and give you the peace of mind that when you work with Matter Designs, you're working with the best.
Absolutely love our new Kitchen! Matter helped us create our dream kitchen and showed us designs we didn't know were possible. I recommend their services to everyone!

Chantal Davey
Amazing service and fast turn around. We had our designs over to us within weeks and the whole build was done in a couple of months. They worked well with our selected tradesman and their maintance plan is outstanding. 100% recommend.

Caleb Vickers
Our kitchen was small and awkward, but Matter design gave us a fabulous layout and really made the kitchen space feel very open! Can't recommend them enough!

Soraya Wiggins
The bedroom and bathroom design supplied by Matter was out of this world! Feels so open and modern, but also very cosy. Really makes use of all the space. Thank you Matter very much.

Katie Dickinson