Whether you are updating your kitchen or fitting an entirely new one from scratch, there are numerous decisions to make. What will the layout look like? Which appliances do you want to include? What colour and style of cabinets do you want?
Although these are all important decisions that can make or break a good kitchen design, there is another crucial matter to decide upon. This is which sort of kitchen worktop you will choose.
A work surface in a kitchen is not just a functional item but a key part of the visual identity of the entire design. In short, your eye will fall on your worktop a great deal over the lifespan of the kitchen so you ought to make sure you make the right decision for you. What are the main options available to you?
Read our handy guide to choosing the right one.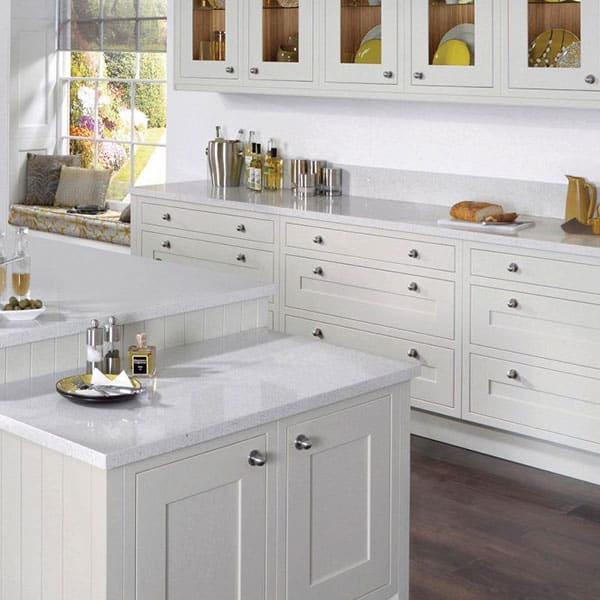 Granite Worktops 
Extremely durable, granite makes a big statement and often works well if you want a highly contrasting worktop against light-coloured kitchen cabinets. It is easy to clean and can withstand high temperatures, which makes it very practical but it is heavier than other options.
Wood Worktops
Solid wood worktops offer warmth and make even very modern designs have a homely feel. Woods like maple and oak are popular because they are reasonably hard-wearing but there are other options you can explore. In many cases, wooden worktops will only get better with age.
Laminate Worktops 
A high-density chipboard worktop with a laminate veneer over the top is one of the most popular work surface options in the UK. This is because laminate worktops are highly versatile and relatively inexpensive. They are great in oddly shaped kitchens where the working surfaces will need to negotiate nooks and crannies as well as curves.
Metal Worktops
Worktops made of metal are popular in professional kitchens so if you want to look like a chef in your own home, then this is a good look to go for. Easy to wipe down and maintain, metals like stainless steel reflect light well and look great in a kitchen with sparkling lighting elements, for example. Copper is also popular, a metal that has handy antimicrobial properties.
Ceramic Worktops
Ceramic worktops remain popular because of the wide variety of designs and styles you can obtain from this versatile material. In fact, ceramics have been used in kitchens to offer a clean working surface for centuries. You can get a thin look when you opt for ceramics which makes this type of worktop stand out from other options, something that many of today's customers find appealing.
Glass Worktops
If you want a sleek and glossy look, then there are few better options than glazed working surfaces. In fact, glass worktops are very tough and can be pre-cut to the exact dimensions you need to avoid unnecessary joins.
They are hygienic and easy to clean but you have to take care with very acidic foods being placed on them which can sometimes cause damage if they are left too long.
Thinking about your kitchen worktops? Why not allow our superb kitchen team to put together a design for you?
Absolutely love our new Kitchen! Matter helped us create our dream kitchen and showed us designs we didn't know were possible. I recommend their services to everyone!

Chantal Davey
Amazing service and fast turn around. We had our designs over to us within weeks and the whole build was done in a couple of months. They worked well with our selected tradesman and their maintance plan is outstanding. 100% recommend.

Caleb Vickers
Our kitchen was small and awkward, but Matter design gave us a fabulous layout and really made the kitchen space feel very open! Can't recommend them enough!

Soraya Wiggins
The bedroom and bathroom design supplied by Matter was out of this world! Feels so open and modern, but also very cosy. Really makes use of all the space. Thank you Matter very much.

Katie Dickinson
BOOK A FREE, NO OBLIGATION, FULL SPEC DESIGN